Are you thinking of surprising your groom-to-be with the most exciting wedding present? A set of bridal boudoir photos can be your perfect answer.
What is bridal boudoir photography?
Bridal boudoir photography is a series of professional intimate portraits taken of the bride-to-be in revealing clothing. You can be photographed while dressed in bridal lingerie, your beloved lingerie sets, wedding attire or in fine-art style nudity.
Why should we take bridal boudoir photos?
Is it for me or for him?
You might wish to invest in a boudoir photo shoot as an investment for yourself and your relationship:
The main reason for having your boudoir photos taken is YOU. You will feel great about yourself from the experience, knowing you are sexy and stunning. You will enter into your marital relationship knowing your self-worth.
It will be such a pleasant surprise for him! I never know of a husband that does not like his wife's boudoir photos. You will have those intimate images imprinted in his mind as you walk down the isle. If it is a gift intended for him on your wedding day morning – it will set him into anticipation for the rest of the day!
You may have set path on your beauty and body regime to make sure you look your best on your wedding day. It cannot be a better time to have that body captured to leave your legacy behind! Although we are all beautiful at different stages in life, this is one stage that you would not want to miss.
You can have details of your wedding attire captured, in an alternate way to those on your wedding day. Feel free to bring along your bridal lingerie, your veil, your shoes, or even your wedding dress to the shoot. We will have your favourite items captured, in a form that are for your and his eyes only.
It is one chance for you to get a feel of what it is like to be photographed professionally, ahead of your wedding day. Many people would find that being photographed on their wedding as their first or only encounter with a professional photographer. If you are feeling nervous about how to be in front of a professional camera, you will definitely benefit from the increased confidence after being photographed after an intimate photo shoot.
If you need an excuse to purchase elaborate and beautiful lingerie you dream of owning, this is your perfect excuse. Own them and photograph them!
What should we wear for bridal boudoir photo shoot?
Your 'outfits' are limited by your imagination
Let's start with recommendations for clothing with a bridal or wedding theme:
We associate wedding with white. Quite likely, your bridal lingerie (if any) for the day may be in white. So we can start with a selection of white items: whether they be traditional white lace lingerie set, bodysuits, corsets, garter or stockings. The choices are yours.
You can bring along your bridal accessories for a more intimate look or sneak peek. We can capture you in your veil, your shoes, your wedding dress, in parts together with your lingerie.
What about going semi-naked or naked for that fine art look?
We can also layer you up with tulle (lots of it!) and white sheets. What is more fun and sultry than that?
Bridal boudoir is not just about white lingerie
The boudoir pictures are for you and for your partner, reflecting your taste and who you are or who you can be. It is important that you can both associate the photos with what you normally love to wear.
We would invite you to bring along the lingerie sets that excite you and him. These can be lingerie you normally wear, or lingerie you might not wear on a daily basis but fancy being photographed in. The choice is limitless, of any shapes, textures, and colours. It is about wearing lingerie that embraces and cuddles your body.
Other items that work well for your boudoir shoot can come from your everyday wardrobe, as simple as oversized jumpers or cardigans or your favourite pair of jeans!
Let's steal his big white shirt! This is a look that always works, with a little bit of cheekiness and a lot of sexiness.
What about bridal boudoir nude? It is in our natural form right? We make sure your naked or semi-naked look are presented in a tasteful, elegant and fine art way.
Don't worry if you are not sure what lingerie pieces you should bring or purchase. We can discuss in length in your pre-shoot consultation.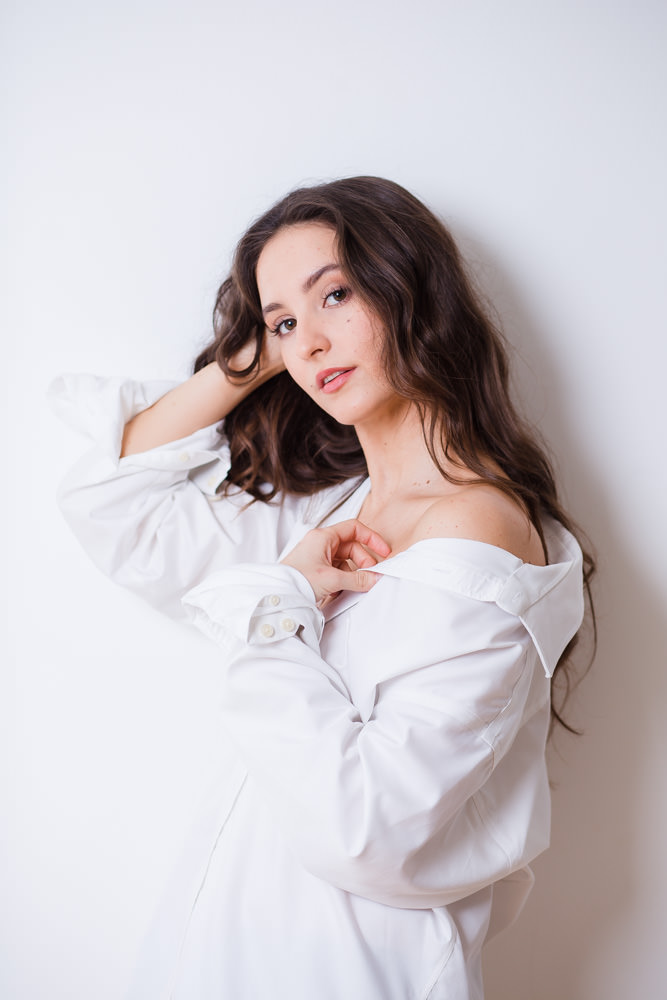 Do I need to plan in advance of a bridal boudoir photo shoot?
Not a lot really, apart from getting your boudoir wardrobe ready!
I have detailed pre-shoot planning sessions with my boudoir clients, so we know the style and look you like. I will guide you through everything you would need to know and have my planning done ahead of you coming in, so your experience will be stress-free.
What should I expect for my bridal boudoir photography experience?
Expect pampering and a lot of fun!
We will cover details of the shoot in our pre-shoot consultation prior to you coming into the studio. On the day you arrive, your session will start with professional makeup and hair styling. We will make ure you are sensational and picture perfect – the same reason you are having your professional makeup done on your wedding day!
Then I will guide you through posing in details. Posing is a skill and it affects substantially how you look in your final images. I learn it through a lot of training and experience, so you don't need to know the in-and-outs. I will give you all the directions to make you look stunning.
Being a female photographer I understand female body shapes and your vulnerability being dressed in intimate (or no) clothes for your photos. I am sensitive and my approach will make you feel relaxed.
Do check out my boudoir photography page here if you would like to learn more about my style and the boudoir photo experience I offer!